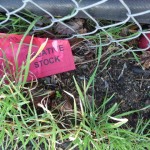 My allergies tell me it's officially Spring, even if the calendar doesn't. I've got some great creative professional opportunities coming up, stalling, turning around, running away, then coming back. I'm trying to keep patient, but not too much so.
I saw this when I was wondering if I had chosen the right profession, and if it could keep me properly challenged. It reminded me that inviting creativity isn't the role of my profession. I'm responsible to remain creative. I remembered working in factories and having my head full of ideas all day and writing all night.
My professional choices don't give me creative opportunities; Every moment does, if I'm creative enough.