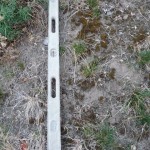 I had a very well-needed walk full of objects to contemplate. Many had immediate, sometimes laughably obvious, relevance to the matters on my mind. All of them had aspects that provoked rewarding contemplation.
First off I found this level. I'm getting further and further off balance, allowing myself to be shoved off balance too easily. Though this picture may not show it, this level is covered with either mortar, or very pale mud. Some of the bubbles are completely obscured. As I walked on, I thought about which level (in both the true-to-horizontal sense and the higher-or-lower sense) I might be not seeing, which bubble balance I need to clean.
I also found a fork. Though not actually in the road, it did make me think of points of decision and their influence on direction. I crossed the street on whim and immediately found a shard of security glass shaped like a heart. When the phrase "heart of glass" is used it is meant to indicate a vulnerability, but this was a heart shaped by the fragility of the glass around it and the accidents it met.
While still thinking about what remains after the accidents that might befall me, and the shape it's left me in, I saw what looked to be a silver-plated spoon with a very ornate handle. The bowl of the spoon had black burn marks left from somebody's fix. The addictions of wealth, the abuse of the beautiful, the lost way, all of these things kept my mind busy until I saw a very beautiful red door that had been nailed shut.
The one thing I didn't get around to contemplating enough, and I still haven't forced a meaning upon it, is a piece of bread I found with the center torn out, resting at the edge of an intersection downtown. I'm still working on this one. Let me know if you have any ideas.