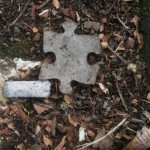 I didn't get a picture to capture this morning's divination moment, but it will stay in my head. A puzzle piece is always appropriate. I've been finding a lot of them lately, as well as playing cards. So this post won't go pictureless.
On the way out this morning, I heard a loud burp, really loud. When I looked up a man across the street, who I suspect made the noise, just stepped in something, turned his foot to see what he stepped in and stumbled.
I helped myself a lot today by staying quiet, even though the indigestion is very, very uncomfortable.