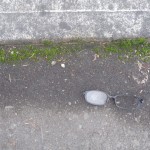 My recent experience of listening to audio books has made me more focused on the location of thought. When recalling the material I heard, I was more apt to recall its place in the work by remembering where I was in my walk when I heard it.
I remember the exact locations where I was when I had thoughts important to me decades ago. I'm sure we all do. I remember hearing that Homeric storytellers would hold a path, or a mansion, in their minds as they told the Iliad. Each door and corner unfolded the verses and held the plot. Our thoughts lay a map upon the ground we've traveled and our past best follows a familiar path.
Lately I've been bringing everything back to some lost commentator's thoughts on hunting and tracking. We became storytellers and scientists in order to make sense of the evidence on the ground. We ate by how well we could create a good story, tell it to those who could help, and follow it through to the prey. We speak hungry steps.
The years in this town has created a topography of memory for me. That corner holds a stack of dream interpretations. That alley is where I find confidence. I'm humble near the tracks and happy near that vacant lot. There's a block downtown that is more sacred to me than any church.
I've been doing a lot of looking into geolocation and augmented reality lately, not as a technology I'll bring into my career, nor as a scientific curiosity, but as a mode of expression my mind has always had, and poetry we've always sung. Could be fun.