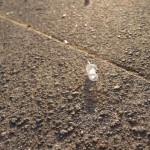 The day before yesterday I finally spent some time redoing nshrine's twitter bot.
Just like before, all you need is to start a tweet with "@nshrine" and nshrine will light a candle for you and send you back a link to it. You can let other twitter users know when you light a candle for them, just tweet "@nshrine @artwells you are awesome!". You'll get a link an I'll get a link.
There are more options, directing candles to specific open shrines and choosing colors. Take a look: http://nshrine.com/help/twittercandles.html.
I'm tempted to revisit wingmail's bot, making it two way. There're so many good ideas to follow.