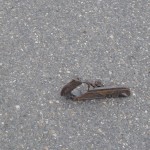 I'm normally pretty good at making up some sort of symbolic meaning for the junk I find. I'm coming up with nothing solid for this.
It's a Stanley planer, made in England. I'd guess it's about 50 years old. Though the blade seems relatively new and sharp the rest is rusty. It appears that the front handle fell off a long time ago.
I'll take any suggestion. All I'm imagining is "making things flat" and that is uninspiring.