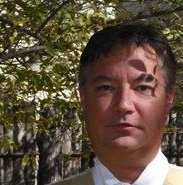 My best friend died last week. I'm still unclear on the details of his death. When I visited, it seemed he wasn't very clear about it himself. He was quite lucid on several occasions and I got some datum points in short stories: One year, one month, one week and one day sober; A 1.75 liter bottle of gin; Waking up in an ambulance at 2 a.m.; A seizure; A morning drink; A sponsor moving out of town; A lost job and a business buy out; A liver and kidney no longer working.
Before he took the nap during which I had to leave, he asked rhetorically "What if I die today?" I could only remind him that had asked himself that question for as long as I'd known him, and that he had come up with some good answers.
Among Brian's many excellences and virtue, he was the best storyteller I've known. The last story he told me was about a woman he watched on flight. At take off she rubbed her face with lotion. She put on dark sunglasses and headphones. She wrapped much of her face in scarves and then sat motionless. She must have made prior arrangements. Brian imagined, because the stewardess left her completely alone until just before strapping for landing. The traveler unwrapped. She took off her sunglasses and headphones. When she got up to leave, she was the picture of vibrant beauty. That's the only way to fly, Brian said as he buzzed for the nurse.
Through the fog, confusion and crying of the last week, the memory of a bold and beautiful man emerges. He was complicated and troubled, particularly at the end, but through to the end, he remained the Brian Walker I will always know.