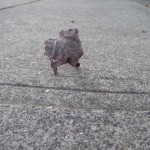 I've been exploring a lot professional opportunities lately. None of them are firm. None of them are yet a path.
I walk around on tippy toes, trying to find a foot size spot of earth for the first step.
In other news, I completed a twitter bot for nshrine. Twitter users can place candles by messaging @nshrine. See the twitter bot help page for more information. Enjoy.