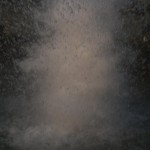 When I was studying quantum physics, I remember hearing that there was a way of seeing the world as a web of incommensurable wavelengths and that all material is composed of the unique co-incidences of these wavelength. Each thing was composed of infinite waves coming together once in one place.
I can't recall any reason to believe that this was true, or a particularly useful model for the problems at hand (as well as I could understand them). What I remember most was just imagining that it was true and meaningful. It's still useful for that purpose.
So many otherwise unrelated things influence each little thing in life. Each incident is confluence. To act with intent is to understand that these strands of influence can't be unraveled or even traced. To appreciate beauty is to embrace this shortcoming.